Food Safety and Quality Assurance
Our Food Safety & Quality Assurance (FSQA) team are committed to working with our suppliers to drive the highest standards of production and processing in the food service industry, ensuring that each and every product provided by Sysco meets the highest standards of food safety, quality and consistency.
Each new product listed by Sysco has undergone a rigorous review of its production process, detailed product specifications, labels, nutritional information and delivery standards. We conduct regular audits of our suppliers' premises to ensure their production facilities meet the standards required to be a Sysco supplier.
Each and every delivery is assessed before being accepted to determine that the goods meet the agreed minimum shelf life, that all labelling is correct and that packaging is not damaged. Temperature control is carefully monitored and all deliveries are checked on delivery to ensure they are within acceptable standards. Temperatures in our storage facilities and delivery vehicles are continuously monitored to ensure that chilled and frozen products arrive to our customers in optimum condition.
The FSQA Department regularly conducts product testing to ensure that all product standards are maintained and consistently delivered. Every customer query with regard to quality issues is fully investigated and there is a fully documented and tested recall procedure in place in the event of any concerns regarding the quality of any item we supply.
Sysco brings a selection of exclusive brands to our customers. The Quality Assurance (QA) standards for items produced under these brands is rigorous and demanding. Manufacturers must demonstrate the highest quality procedures and production facilities and must undergo intensive audits by our QA team.
Sysco Brand products and Quality Assurance
Sysco Brand food products are evaluated against detailed specifications to make sure our customers receive the best quality and value available. These products proudly display our Quality Assurance logo.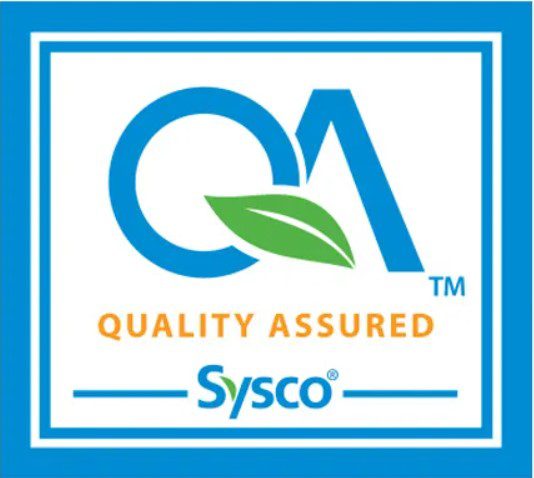 Through ongoing supplier audits, inspections, and product evaluations, the QA team fulfils Sysco's vision of being our customers' most valued and trusted business partner by delivering products that meet the most stringent safety, reliability and quality standards. Our quality assurance programme has a global presence, with products sourced across the island of Ireland and beyond.