Raspberry Chocolate Delice – Valentine's Day 2023
Bakery and dessert specialist, Matt Matthews has been whipping up some magic in the kitchen to create this indulgent and delicious special occasion cake – perfect for Valentine's Day.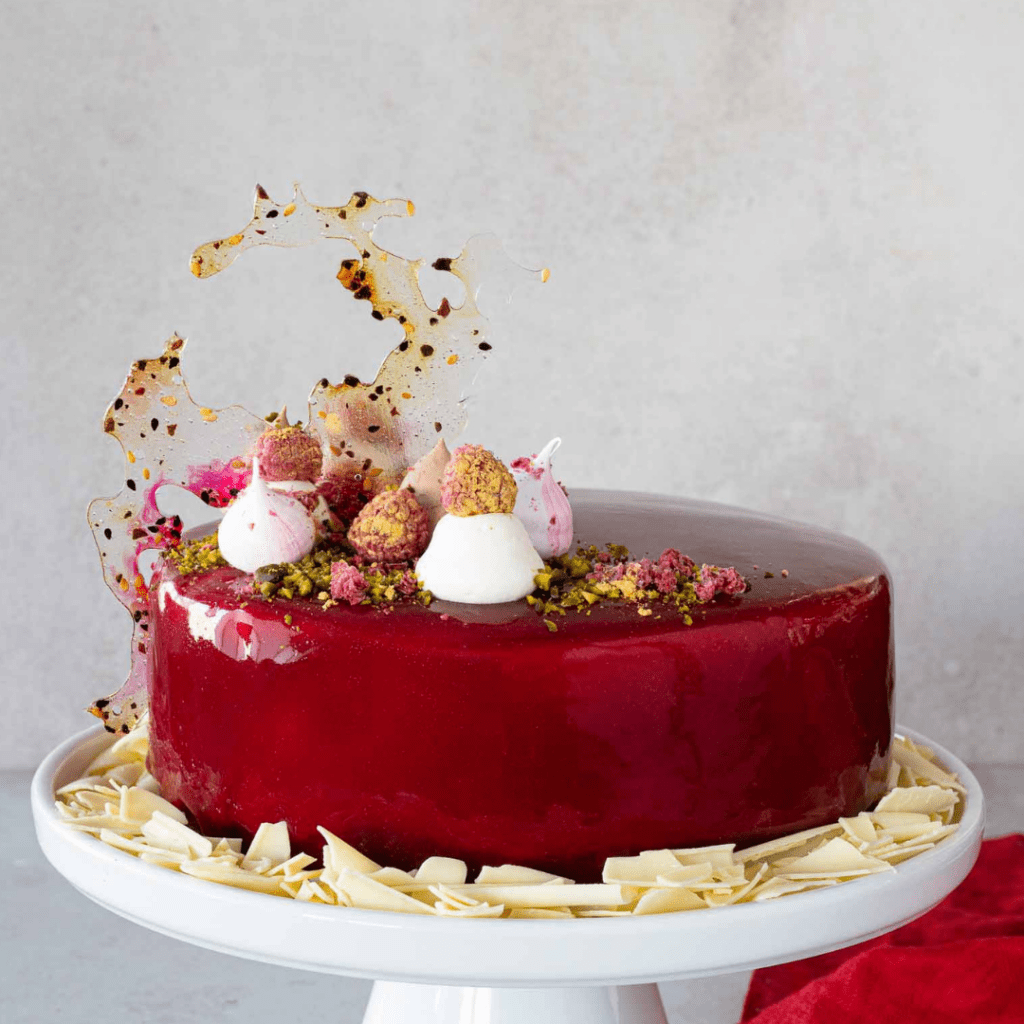 For the Flourless Chocolate Truffle Sponge
300g Dark Chocolate 64% (CT968)
150g Unsalted Butter (DY141)
6 egg Yolks (EG219)
6 egg Whites (EG219)
50g Caster Sugar (Z313002)
Method
Line the base and sides of the baking tray 9″ spring cake tin.
Melt the chocolate and Butter over a pot of hot water.
Whisk the egg yolks with 10g of the caster and then stir in the melted chocolate.
In a clean bowl Beat the egg whites and 40g sugar together until stiff, then fold one third of it into the chocolate mix. Fold in the remaining whites and pour the mix into the lined cake tin.
Place in oven at 180°c for 20 minutes.
Remove from oven and allow to cool down
For the toppings
Raspberry Delice Mousse
350g Raspberry Puree (496663)
 5 Leaves Gelatine (T57)
12g milk powder (492214)
5g vanilla extract with seed (T964)
3 medium egg yolks (EG219)
25g Caster sugar (Z313002)
150ml Briottet Creme De Framboise (BR312)
400ml Double cream (DY383)
Italian Meringue
3 Medium egg whites (EG219)
180g Caster Sugar (Z313002)
Method
Soak the gelatine in cold water.
Put the raspberry puree, milk powder and vanilla in pot and bring to the boil.
Whisk the yolks and sugar together, pour the boiling puree onto the egg mixture and whisk well.
Pour back into the pot and cook on a low heat until mix starts to thicken (Do not boil).
Remove from heat and add in the soaked gelatine, strain into a clean bowl and set aside to cool slightly.
When mousse is lukewarm fold in the meringue and the Creme De Framboise.
Semi whisk the double cream, gently fold into the above mix.
Shop the Recipe