Have a Plant Tastic New Year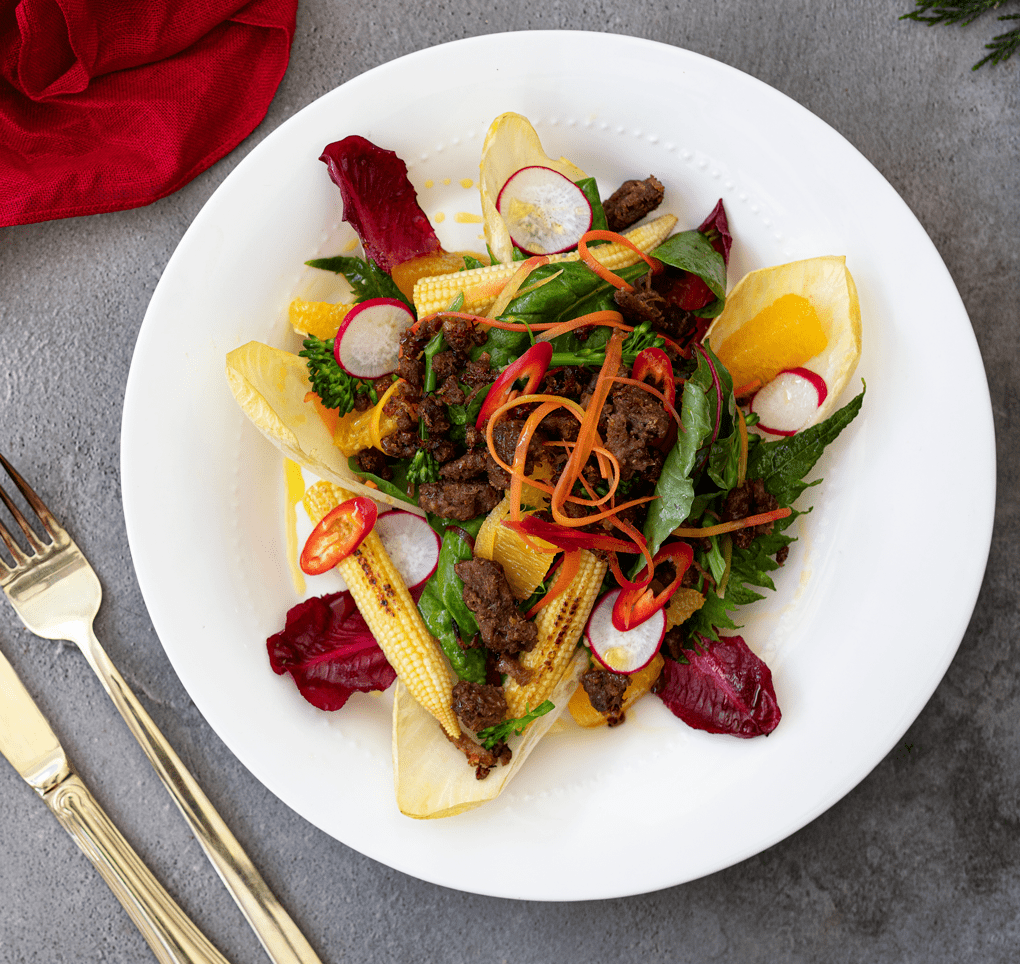 Deli OatBites is the quick and tasty choice to build a delicious and nutritious vegetarian selection.
Deli OatBites™ is a new kind of marinated, ready-to-go protein boost. Made from oats, legumes and zero additives, with great taste and texture. Deli OatBites™ can be enjoyed in all kinds of dishes and as a tasty topping. Chili-ginger marinated Deli OatBites™ are perfect for woks, pizzas and salads. Use to make delicious, nutritious and protein-packed meals in minutes. 
Get creative with a delicious vegetarian salad of spiced pulled oats, crisp leaves, citrus, sesame and ginger
Serves 8
Ingredients
300ml sugar syrup
10gm mixed spice 
2 oranges FW597
800gm Vegan Pulled Oats Veggie Natural Mince VG967Z
160gm baby corn VW715
500gm tenderstem broccoli VW701
500gm lettuce chicory SL331
500gm red chicory SL215
3 bunched radishes, sliced VW750
For the dressing:
1 red chilli, thinly sliced VW757
100gm Shiso green leaf HB286
50gm coriander 490071
60ml Lee Kum Kee light soy sauce OR317
1 tbsp rice vinegar 114487
1 tbsp sesame oil OR342
1 tbsp ginger, grated VW764
5gm caster sugar Z313002

1. To make the dressing, combine all of the ingredients in a bowl and mix well. Set aside until the dressing is needed.
2. To make the spiced syrup, simmer some sugar syrup and add the mixed spice. Allow to simmer for five minutes, then set aside.
3. Segment the oranges, allowing three segments per salad.
4. To cook the oats, fry them in a pan until they're hot and beginning to crisp. Add two tablespoons of the syrup per portion to the pan and cook out until nearly reduced completely.
5. Char the baby corn and poach the sprouting broccoli until al dente.
6. To finish the salad, toss the chicory, radishes, broccoli and baby corn in a large bowl and add the salad dressing. Put the dressed salad into a bowl and add the spiced oats and serve.