Time well spent with Irish Nature
Beef Short Rib Braised in Guinness
Sysco have teamed up with Irish Nature to bring you this delicious low and slow recipe, perfect those cool Autumn days ahead.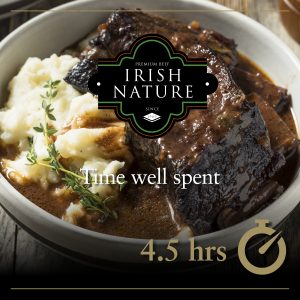 Ingredients
1 pint 570 ml Guinness (19.27 fl oz)
Salt and pepper
Recipe
Serves 5
1.  In a hot pan add the oil, season and seal off the beef and place into a gastronom pan.
2. In the same pan sauté off the mire poix and garlic until a nice color is obtained.
3. Add the tomato puree and cook out for a few minute before adding the Guinness.
4. Reduce by half then add the beef stock, bring to the boil and pour over the beef.
5. Cover the whole tray tightly with foil and place in an oven at 140 degrees Celsius or 284 Fahrenheit for 4 hours.
6. When cooked, remove from oven, remove foil, brush the veg off the top of the beef and place a sheet of silicon paper on top followed by another same size pan and press with heavy weights overnight in the fridge.
7. When cold, slice portions neatly down the bones and vac pac.
8. Reduce the cooking liquor to taste and thicken if required with a little arrowroot.
9. To assemble reheat the beef in a water bath heat the sauce and finish with a cube of diced cubed butter or as they say in France "Monte Au Beurre" .
Shop Now